Ranking de registro = (Número de Sign of Lord * 5) + Número de miembros del guild) + Nivel de Guild Master

Anuncio de registro: Tiempo para que los guilds anuncien sus intenciones de atacar el castillo.

Periodo de registro: Es hora de pujar por los 3 primeros puestos del Castle Siege mediante el uso de Sign of Lord para mejorar su posición.

El anuncio: Se anunciarán los clanes que han sido aceptados en el Castle Siege.

Inicio del Siege: Comenzará la batalla.

Nota: Los jugadores pueden obtener Sign of Lord cazando cualquier mob.
Cuando se selecciona el clan de un inscrito, el equipo invasor y sus aliados tendrán un icono de espada y un defensor y sus aliados tendrán un icono de escudo.

La penalización de PK no se aplica entre los guilds participantes.

La condición anterior se aplica solo a Valley of Loren.

La penalización de PK no se aplicará tanto al equipo invasor como a los equipos defensores, pero será aplicable a otros personajes que no sean participantes.

Los Guild Masters tendrán una marca de corona en la parte superior en lugar de una marca de espada o escudo.

Los personajes neutrales no se marcarán como atacantes o defensores.

No se permite el registro / retiro del guild durante la batalla.
Siege Players
El equipo invasor tendrá un icono de espada y el equipo defensor tendrá un escudo encima de su personaje.

El Guild Master tendrá un icono de corona en lugar de espada o escudo. (Una corona azul para el equipo defensor y una roja para el equipo invasor)

El personaje neutral puede atacar mientras presiona [CTRL].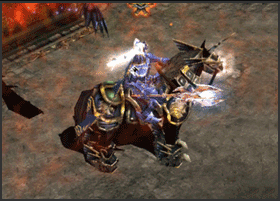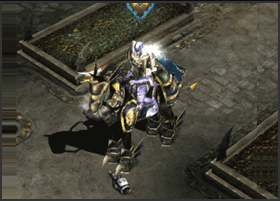 Guild Master equipo ofensivo Guild Master equipo defensivo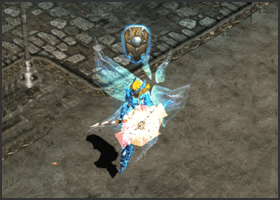 Guild Member equipo ofensivo Guild Member equipo defensivo
Despliegue
1. Basic Policy and Winning condition
The union under the invading/defending team will automatically included to each invading/defending team.

Attacking own troops is only possible by pressing Ctrl key.

Range attack can give 80% reduced damage to the own troops and 60% reduced damage for the other troops.

To win the siege the guild master's official seal should be registered in the pedestal located at the dragon tower and if it succeeds the lord of a castle will be changed.

Only the guild master can stamp the official seal in pedestal.

To stamp press it for 30 seconds and if the 2 foot holders that are needed for stamping is cancelled or the character gets killed the stamping will fail.

If there's a remaining time even if the stamping was successful, the battle will continue but the
2 camps of invading/defending team will be exchanged.

The guild with their official seal stamped at the end of the siege will be the lord of a castle



Foot holder Pedestal




Status, command system
For the guild members of invading/defending teams, there's a display of the siege status (mini map) at the lower right side of their screen.
It displays the player's location, command status of guild master, deployment plan of the castle and status of the castle.

It will be displayed when the siege warfare starts and it will disappear when the siege warfare is over or moving to a non-battle area.

You can turn the display On/Off by pressing the [Tab] Key.
Command functions are only given to the guild masters of invading/defending teams and it's possible to command the attacking location to the guild members by using these functions.

The guild master can command the siege status to the guild members by using attack commands (sword icon: Attack), shield commands (shield icon: Defense), standby commands (flag icon: Stop).

A total of 7 groups can be commanded from this menu.
Mini Maps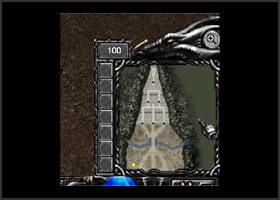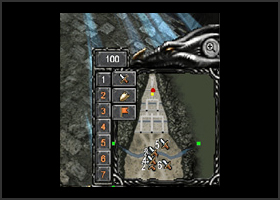 Regular character Guild Master
Life Stone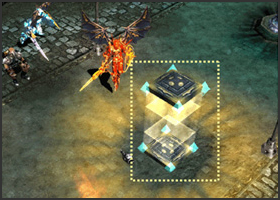 Only the guild master or assistant guild master of the invading team can use the life stone. Once the life stone is created it functions as a respond point for the entire guild.

When the invading team's character gets killed,he will respond from the life stone and not from the outside of castle.
When invading team's guild member (including united guild) gets killed, he will respond nearer from the battle zone.
Can only be used by the invading team.
There is a 60 second timer for placing the Life stone.
Due to its special powers, it will restore HP/MP/AG to the invading team's characters around it (3 tiles) at the certain time.
Life Stones can be destroyed when attacked by the invading/defending teams.